With the moped to the Baltic Sea? For Lars Eidinger and Bjarne Mädel, this is a life's work in the charming road movie "25 km/h", which celebrates its free TV premiere tonight. Switching on is worth it!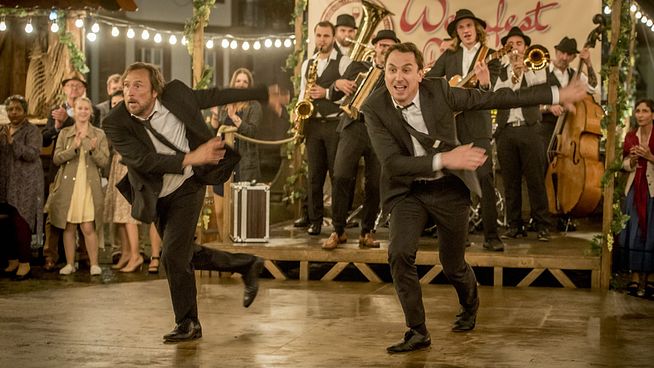 Ten years ago, Matthias Schweighöfer and Friedrich Mücke were allowed to travel to the United States in "Friendship!" after the fall of the Wall. The result? The most successful German cinema release of the year. In "25 km/h", which celebrates its free TV premiere this Wednesday (4 August 2021) at 8:15 p.m. on Sat.1the successful team behind "Friendship!" sends two stars out into the world once again.
Again "Friendship!" Director Markus Goller look forward to more than a million visitors in German cinemas! Unlike in "Friendship!" Lars Eidinger and Bjarne Mädel do not leave the Federal Republic in the case of "25 km/h". The journey for the two protagonists is still adventurous – here the mopeds from the teenage days are still mounted!
That's what "25 km/h" is about
The sibling duo Christian (Lars Eidinger) and Georg (Bjarne Mädel) has not seen each other for 30 years. Ironically, at her father's funeral, they run into each other again. Although initially there was silence between the unequal brothers, the alcohol at the funeral feast gradually eased the mood.
Without further ado, the two over-40s decide to do what they wanted to do together when they were young: drive across Germany on a moped and relieve themselves together in the Baltic Sea. From the Black Forest to Rügen, however, Christian and Georg can never drive faster than 25 km/h – and thus have plenty of time to deal with conflicts of the past…
+++ Opinion +++
Of course, the story of "25 km/h" doesn't sound particularly original. Especially when you realize that Markus Goller has already delivered a very similar comedy with "Friendship!". In the official FILMSTARTS review, the road movie still got a decent 3.5 out of 5 stars – and I think that's fully deserved.
"25 km/h" touches the heart and is very funny
In the conclusion of the FILMSTARTS review it says very aptly: "Despite an unoriginal premise and constantly lurking clichés, director Markus Goller makes the difference '25 km/h' is a refreshingly likeable feel-good road movie that is more profound and surprising than you would think at first."
In my opinion, that sums it up very well, because if "25 km/h" can score with one thing, it's with its realistically drawn characters. What may seem trite at first glance becomes a really touching experience thanks to the attentive powers of observation on the part of Markus Goller and the two famous main actors.
» "25 km/h" on Blu-ray at Amazon*
Lars Eidinger and Bjarne Mädel, who not only underline their comedic talent but also their class as character actors, give "25 km/h" a surprisingly subtle depth, which is given the necessary space to be allowed to work. Moments of interpersonal openness are not misused for the next gag because Markus Goller is really concerned with the feelings of the two protagonists.
Nevertheless, "25 km/h" is of course also a lot of fun, which often arises from the contrast between the two brothers. Almost episodically, as befits the dramaturgy of a classic road movie, Lars Eidinger and Bjarne Mädel stumble from one surprising situation to the next. You will not only experience tangible madness, but also genuine everyday poetry.
*The link to the Amazon offer is a so-called affiliate link. If you make a purchase through this link, we will receive a commission.