In the world of "A Quiet Place" there is an exciting premise – only those who are absolutely still survive! Now, after two films about Evelyn (Emily Blunt) and her family, a spin-off is to come in which the post-apocalyptic world will be expanded.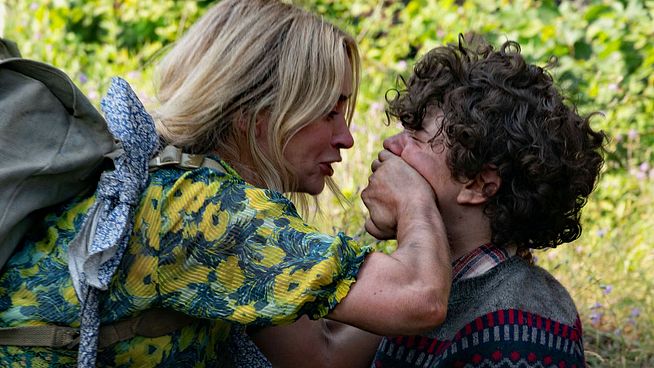 In 2018, the horror thriller "A Quiet Place" about aliens with particularly good hearing blossomed into a huge surprise hit and convinced both critics and the audience, which made 341 million US dollars in the box office worldwide – the small, fine horror film only cost 17 million. Since then, fans have been eagerly awaiting the start of part 2, which has been repeatedly postponed due to Corona – "A Quiet Place 2" is now scheduled to hit the cinemas on April 22, 2021.
The long wait is now sweetened by good news, because the horror franchise is getting loud deadline keep growing:
A Quiet Place is getting a Jeff Nichols spin-off.
After the two films in the main series of John Krasinski were staged, who also stood in front of the camera, in the offshoot with Jeff Nichols, a director takes over the staging, who has previously given us great dramas such as "Loving" (4.5 stars in the FILMSTARTS rating) and "Mud – Kein Ausweg" (4 stars) and delivered an enchanting little sci-fi gem with "Midnight Special" (4 stars).
This is the "A Quiet Place" universe
As such, Nichols seems perfectly suited to a horror film that emphasizes the quiet tones – literally, because in the world of A Quiet Place, whoever makes noise dies.
Evelyn Abbott (Emily Blunt) and her family have to experience this firsthand. After ravenous aliens with gigantic hearing have landed on earth, the family must live in silence. That's not easy when you have a deaf daughter who can't hear deadly noises without her hearing aid, and when there's a baby on the way whose nature is to scream…
The idea for the spin-off came from Krasinski
But just because John Krasinski, who previously co-wrote the screenplays, isn't in the director's chair this time doesn't mean he won't be involved again. Krasinski came up with the idea for the spin-off and will produce it.
Jeff Nichols is writing the screenplay this time. The spin-off still has no title and no details of the content are known. But it can be assumed that it will be about the story of people other than the Abbotts in the silent post-apocalypse.
The "A Quiet Place" spin-off is scheduled for release in 2022.
Before "Meg 2" and "Tomb Raider 2": "Rebecca" director shot another corona horror film