"Red Sonja" only ran in a shortened form in German cinemas, but the fantasy action film has also been available uncut for a number of years. But only now is the cult adventure of Brigitte Nielsen and Arnold Schwarzenegger coming out in 4K.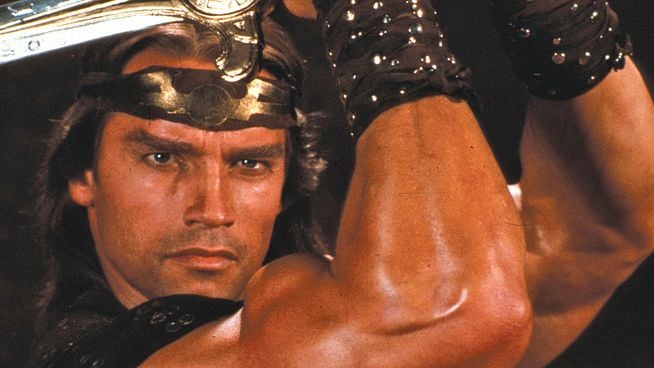 Sweat, muscles, a lot of bare skin, sword fights and black magic: Before Arnold Schwarzenegger became known primarily as an action hero who shoots his way through the present with tons of ammunition, he was a scantily clad fantasy hero who helped women who were just as scantily clad. The films from this period in Schwarzenegger's career include the fantasy cult "Red Sonja" with Brigitte Nielsen in the title role.
While the legendary fantasy action film received a PG 13 rating in the USA, in some other countries it even had problems with youth protection and/or the responsible distributor's marketing plans. This is also the case in Germany: "Red Sonja" was cut in the cinema for an FSK rating from the age of twelve – the full-length cult film only came to us in the DVD era. Film fans can finally get it home uncut in cinema quality: "Red Sonja" will be released in 4K on July 21, 2022 – with restored image and sound and free from the age of 16.
» "Red Sonja" 4K Blu-ray on Amazon*
Film fans who want to have the iconic adventure in a collector's edition can, by the way, access the limited steel book edition for a small surcharge:
» "Red Sonja" 4K Steelbook at Amazon*
And for all 4K grouches who don't yet have "Red Sonja" in their collection but now feel like the cult classic, there's also something to take care of: In the wake of the German 4K home cinema debut, the revised "Red Sonja" version will also be available on DVD and Blu-ray out.
» "Red Sonja" DVD & Blu-ray at Amazon*
These editions are based on the remaster created for the 4K editions and therefore advertise with a better picture than the earlier DVD and Blu-ray editions – but of course they cannot quite keep up with the 4K disc for technical reasons alone.
"Red Sonja": Schwarzenegger almost in "Conan" mode
Power-hungry Queen Gedren (Sandahl Bergman) steals a sacred magic stone said to grant superhuman powers – leaving a deadly path of destruction in its wake. Red Sonja, the sister of one of Gedren's victims, then swears ice-cold revenge. On her mission, she is assisted by young Prince Tarn (Ernie Reyes Jr.) and his servant (Paul L. Smith). The mysterious Kalidor (Schwarzenegger) also offers himself as a comrade-in-arms, but Red Sonja doesn't know if she can trust him…
New in home cinema: In this sinister FSK-18 film, a woman takes merciless revenge
Originally directed by Richard Fleischer, the sword-and-sandals stuff was supposed to be a spin-off of the Schwarzenegger hits "Conan – The Barbarian" and "Conan – The Destroyer".. However, this plan was abandoned for licensing reasons, so that the role of the Styrian oak is strikingly reminiscent of Conan, but it has a different name. To what extent that was the reason why "Red Sonja" disappointed at the box office remains an unsolved film mystery – but in the long run Brigitte Nielsen's fantasy adventure earned at least the cult status of the "Conan" films.
In addition to the robust film world in which this spectacle takes place and its trashy internal logic, the catchy music should also have played its part. Incidentally, the person responsible for this was none other than composer icon Ennio Morricone. There is no accompanying documentation on the new "Red Sonja" edition, but there is about Schwarzenegger's incomparable career and about Renato Casaro. A 90-minute documentary is dedicated to the Italian illustrator, who penned numerous iconic film posters, in the bonus material of the new "Red Sonja" Blu-ray and 4K edition, which could perhaps be the deciding factor for some film fans…
*The links to the Amazon offer are so-called affiliate links. If you make a purchase through these links, we will receive a commission.