A scene at the end of "Thor: Love And Thunder" should have delighted fans of Dwayne "The Rock" Johnson. Director Taika Waititi has now confirmed that the scene is really meant to refer to the superstar. Nevertheless, she creates a contradiction.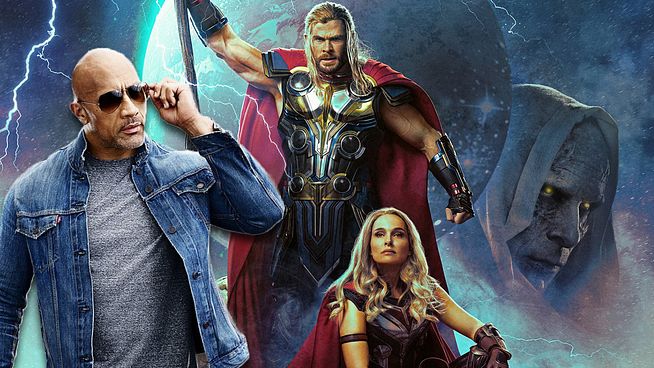 At the end of Thor: Love And Thunder, Korg, played by Taika Waititi himself, has found a life partner: someone else skirt he also gave birth to a child named Dwayne – as is customary for his Kronan species by holding hands over a lava pit.
Many fans immediately assumed that the big stone creature named Dwayne was a reference to Dwayne Johnson. After all, in addition to the name, there are also some visual similarities with the ex-wrestling superstar. A Twitter user has now crafted a photo of Thor 4's Dwayne onto a famous meme image of young Dwayne Johnson to express his delight at the reference. And he got a re-tweet from director Taika Waititi, who also confirmed that it's no coincidence that Korg's husband's name is Dwayne. So of course it's really a reference to Dwayne Johnson…
If you are now wondering: Dwayne Johnson himself was not involved in the scene. A certain Dave Cory, who normally works behind the camera and in the editing room, was used as the motion capture actor. For example, Cory served as First Assistant Editor on Avengers: Endgame and Black Widow. In this job, it is his job to support the editor(s), but often also to act as a link to the camera team and to secure the recordings one day and prepare them for the editing process. Maybe that's why he was just on location when they needed someone to fill in for the Dwayne role.
Gag leads to a contradiction with "Thor 3"
By the way, part of the gag causes a small contradiction with "Thor 3: Day of Decision". The related explanation that the Kronan people are all males and that children are conceived by two Kronans holding hands over a lava pit does fit the comics (it's canon there that there are only males among the Kronans gives), but does not fit a statement made by Korg in "Thor 3".
There Korg explains that he once wanted to start a revolution in his home country, but didn't print enough leaflets. Therefore, only his mother and her new partner (whom he hates) showed up. Now we know that Korg actually couldn't have had a mother. So Waititi's change fixes the old bug about comic fidelity, but now creates a bit of a contradiction within the MCU narrative (which shouldn't matter to most fans though).