In "Shang-Chi And The Legend Of The Ten Rings" actor & martial artist Florian Munteanu as the villain Razor Fist fights in a bus with the titular hero Shang-Chi. We met Munteanu for an interview and asked extensive questions about the scene.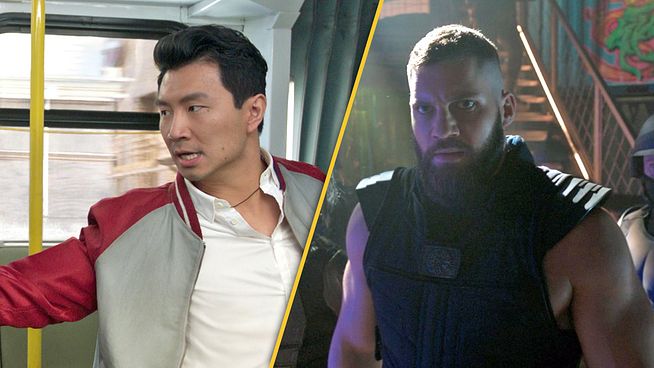 There are two action scenes in Shang-Chi And The Legend Of The Ten Rings that are arguably among the best in the 25-film, three-series history of the Marvel Cinematic Universe (MCU) to date. One of them takes place on board a bus that speeds through the streets of San Francisco without brakes ("Speed" says hello).
We interviewed German-Romanian actor and former heavyweight boxer Florian Munteanu, who broke through as the son of Ivan Drago in Creed II and who took on the role of the bladed Razor Fist on board this bus in Shang-Chi brawl with the titular MCU hero delivers. And of course we asked him about the bus scene, his blade arm and his future in the MCU…
MOVIE STARTS: For me, the fight on the bus in "Shang-Chi" is not only one of the best action scenes in the movie and in the MCU, but even one of the best action scenes in recent years. How did you shoot that? How can you set something like this up?
Florian Munteanu: It takes a lot of sacrifice, a lot of dedication and a lot of hard work. It took us four weeks to prepare, rehearse and learn the choreography, and it took us another four weeks to get the whole sequence in the can. So for the complete scene, which then lasts six, seven, eight minutes in the film, we needed about two months.
And that alone shows how much effort we had to put in to create something so epic. But that was exactly the claim, especially since the film was supposed to be so inspiring and full of martial arts right from the start. And a lot of value was also placed on the fight scenes. We wanted to create fights that didn't exist before. And like you said, the bus scene was one of them.
MOVIE STARTS: I assume you probably didn't shoot that on a moving bus, but on a green screen…
Florian Munteanu: Yes, exactly. There was also a second bus that stood on a hydraulic system that we could use to do all the twists and turns to make it look natural.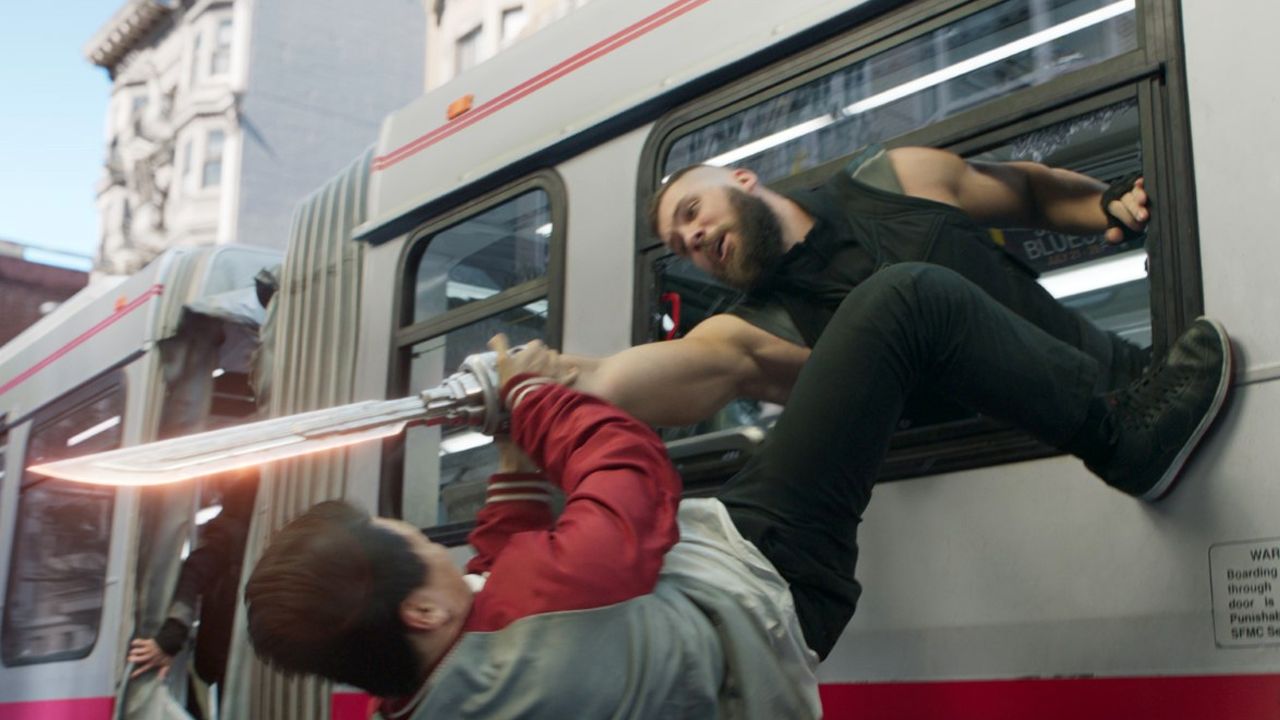 MOVIE STARTS: You are a professional martial artist. How much of the fight did you do yourself?
Florian Munteanu: I did everything myself.
MOVIE STARTS: Your character walks around the whole movie with a missing arm or with a blade as an arm. How did you shoot that?
Florian Munteanu: I had to put a green glove on my right arm, and further up I just had this metal ring around my forearm, but it was made out of plastic so it's soft and I don't hurt anyone. And the rest was then supplemented with computer effects. It was very weird at first, not just visually, because I had to shoot with that green glove all the time. Of course, that didn't look dangerous. It also just felt weird because I had to hold my hand like it was a blade the whole time [zeigt eine flach ausgestreckte Hand].
It wasn't like the boxing matches in Creed II where I could get into a natural fighting stance and clench my fists. I must have needed two or three days to overcome this unnaturalness. But once I got into the role, I didn't even think about it anymore.
MOVIE STARTS: So there was no dummy blade in the fight scenes or anything?
Florian Munteanu: We had a glove that had a handle that I could wrap my hand around. And there was a little needle sticking out of the glove, a rubber needle. If we had more space in the fights, we used that. That felt better for me because I could close my fist.
MOVIE STARTS: I absolutely loved the Razor Fist car featured in a scene from Shang-Chi. How the car looks just says so much about the character. Where did this idea come from and were you involved in the design itself?
Florian Munteanu: Of course, when you get involved in a project like this, you've had a lot of conversations with the director. And of course you try to get as much background information about the character as possible. It was a collaboration between me and director Destin Daniel Cretton on the direction we want to take this character.
It was incredibly important to me that Razor Fist is not one-dimensional. I wanted to be more, not just the right hand who just fulfills orders, and rigorously and emotionlessly chop everything up and down. How the car looks and how it is designed should of course reflect the figure. And we will see to what extent and how far we can go into this in the future.
Battle against Wolverine? The future of Razor Fist in the MCU
MOVIE STARTS: Speaking of the future, I know you probably can't reveal too much about it, but I still have to talk to you about the second post-credit scene. What does this scene mean?
Florian Munteanu: [lacht] How much do you think I can tell you about that?
Let's try it the other way around: Would you like to play Razor Fist again in the MCU?
Florian Munteanu: Sure, of course. I would play every role I've played again someday. Each role grows on you because you're immersed in it for so long and you're trying to become one with this completely different character. Accordingly, it's never easy to part with a character when you've been working on it for several months.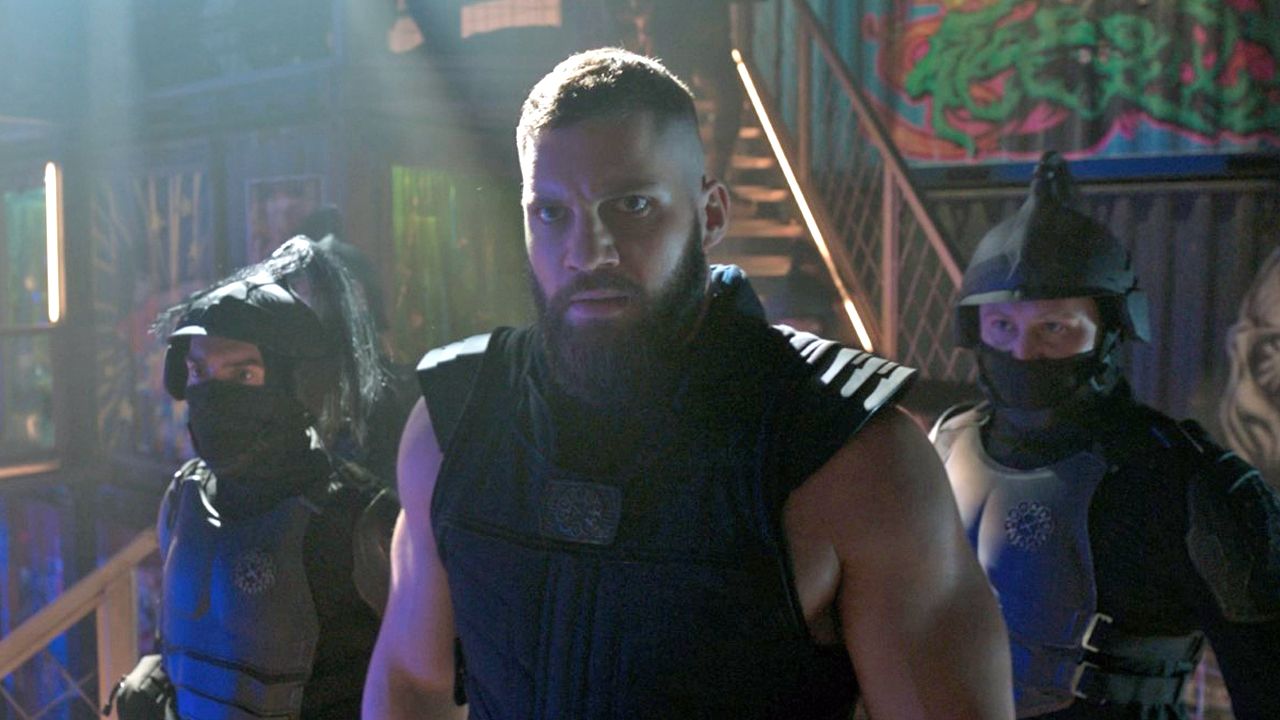 MOVIE STARTS: At this point, of course, the almost obligatory question for superhero films should not be missing: what would you like to do with Razor Fist in the MCU. Or which character you would like to fight…
Florian Munteanu: One of my favorite heroes since I was a kid is Wolverine from the X-Men. Razor Fist and Wolverine actually fought each other in the X-Men comics. And I think that would be an incredibly awesome fight because these different blades meet. Who knows what else will happen to Razor Fist's other arm. I think there's a lot of possibilities, a lot of options – let's just see what the future holds…
MOVIE STARTS: You were in the MCU, the most successful franchise of all time, and the cult film series "Rocky" and "Creed". What else can come? Which franchise would you still like to see?
Florian Munteanu: A new franchise we shot two months ago is Borderlands, which is a video game adaptation and will definitely be very interesting for all gamers. The film will be in cinemas early next year and all gamers and other sci-fi fans can look forward to a cool blockbuster. And as you said: There are still many franchises, many cool film series, where you would definitely still find your place. We will see what happens…
"Shang-Chi And The Legend Of The Ten Rings" has been in German cinemas since September 2, 2021.
The new Marvel film "Shang-Chi" in the podcast