Movie
New today on Disney +: A completely insane agent action spectacle & other highlights – cinema news
Just in time for the weekend, some new content will land on Disney+ this Friday. In addition to a handful of prominently cast dramas, action fans can look forward to an extra portion of agent madness in "Kingsman: The Golden Circle".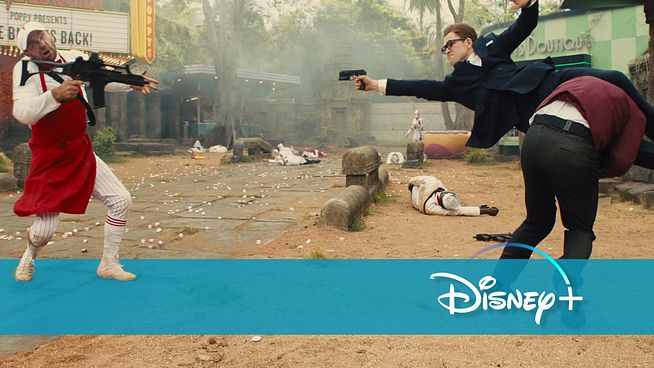 With "Kingsman: The Secret Service" in 2015, director Matthew Vaughn ("Kick-Ass", "X-Men: First Class") delivered a totally crazy melange of elegant British agent action and colorful over-the-top comic- Spectacle that convinced the trade press and the public alike. If you can't get enough of it, you can easily and conveniently watch the crazy and entertaining fireworks of ideas over and over again thanks to Disney+. And today, September 17, 2021, there will finally be a second helping.
So if you have subscribed to the Maushaus streaming platform, you can now enjoy the adventures of the deadly agents on a secret mission in a double pack – Kingsman 2: The Golden Circle is available now on Disney+ – and perfectly geared up for the upcoming prequel, The King's Man: The Beginning. Theatrical release is December 22, 2021.
›› "Kingsman: The Golden Circle" on Disney+*
Even if "Kingsman 2" can't quite keep up with its predecessor, we still have a recommendation for all fans of crazy action entertainment.
This is Kingsman 2: The Golden Circle
When the ruthless Poppy (Juliane Moore) blows up the Kingsman headquarters and holds virtually the entire world hostage, junior agent Eggsy (Taron Egerton) is faced with his most delicate mission yet.
However, together with his partner Merlin (Mark Strong), he then finds out that a very similar group of agents was once put together in parallel with his spy organization in the USA – the Statesman, founded by Agent Champagne (Jeff Bridges). So they team up with Agent Tequila (Channing Tatum) and Agent Whiskey (Pedro Pascal) to save the world once more…
In the FILMSTARTS review of "Kingsman 2" we gave it 3.5 out of a possible 5 stars – for a "full black humor action cracker" with an extra dose of self-mockery and an excellent cast of stars.
Also new to Disney+
"The miracle of Bern": In his ambitious sports and family drama, director Sönke Wortmann ("Der Vorname") combines Germany's legendary 3-2 victory over Hungary in the 1954 World Cup final with the story of a family in post-war Germany – "a proper trip to the German History", which, however, does not quite reach the quality of a "Good Bye, Lenin!". 3 stars.
"The Comeback": The story of a former boxer whose life goes completely upside down in times of economic crisis before he makes the impossible possible and yet returns to the ring again is the second outstanding collaboration between leading actor Russell Crowe and director Ron Howard (after " A Beautiful Mind"), which was nominated for three Oscars in 2005. We give it 4 stars and a clear recommendation for all biopic and box enthusiasts.
"Demolition – Loving and Living": Also in the drama by Jean-Marc Vallée ("Dallas Buyers Club") the world collapses for a man (Jake Gyllenhaal), because the carefree life of the investment banker is changed forever when his wife is killed in a car accident. The emotional, but at times somewhat inconsistently told drama gets 3 stars from us.
*This Disney+ link is an affiliate link. By subscribing via this link you are supporting FILMSTARTS. This has no effect on the price.