The mini-series "The Queen's Gambit" about a young chess genius is currently running very successfully on Netflix. However, the original book was to be filmed many years ago – by Heath Ledger shortly before his death.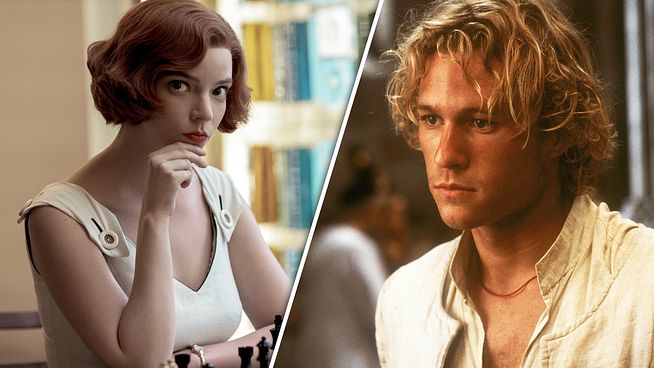 On Netflix, the fight of the young chess genius Beth (Anya Taylor-Joy) for the world title and against pill addiction is currently captivating many viewers. The long history of the origins of the book adaptation "The Queen's Gambit" is no less exciting – and sometimes tragic.
The Queen's Gambit would be Ledger's directorial debut
Shortly after its publication in 1983, Walter Tevis' novel The Queen's Gambit attracted Hollywood attention. A film project was set up very quickly.
But the death of Tevis in 1984 complicated the legal situation and nothing came of the film at first. Several other attempts followed, including Michael Apted and Bernardo Bertolucci as directors, but the deals burst – until 2007 Heath Ledger came on the scene.
›› "The Queen's Gambit" on Amazon*
This started the next and quite promising attempt at an adaptation: "The Dark Knight" star Heath Ledger was to film "The Queen's Gambit" as his big directorial debut.
Previously, Ledger had only directed three music videos. He himself was supposed to play in "The Queen's Gambit", and Ellen Page was intended to play the leading role of chess master Beth Harmon.
It looked like Scottish screenwriter Allan Shiach, who had been working on the project since 1992 and had been making constant – but unsuccessful – efforts to bring it to fruition ever since, finally found the right team. It should also have been a dream project for Ledger.
After Ledger's death, nobody dared to do the material for a long time
Filming for the movie was scheduled to begin in late 2008. But then everything changed: Heath Ledger died on January 22, 2008. Tragically, the very same addictions that led to his death that The Queen's Gambit is about – sedatives and painkillers taken by Ledger interacted to cause his death, which police ruled an accident.
After that, it took ten years before anyone touched the material again – and the rest is history. After many attempts to make a movie out of The Queen's Gambit, it has finally become a seven-part mini-series on Netflix. In addition to Anya-Taylor Joy, the cast also includes Thomas Brodie-Sangster, Marielle Heller, Bill Camp and Harry Melling ("Dudley Dursley" from "Harry Potter").
By the way, the series turned out great! Here you can find out why we can definitely recommend you to watch:
I was hooked on this awesome new Netflix series!
*The link to the Amazon offer is a so-called affiliate link. If you make a purchase through this link, we will receive a commission.