Bruce Willis, Brad Pitt, Terry Gilliam – and twelve monkeys: For many science fiction fans, "12 Monkeys" is one of the greatest cult films of the 90s. In October, the dystopian masterpiece will appear as a new limited edition – in 4 variations.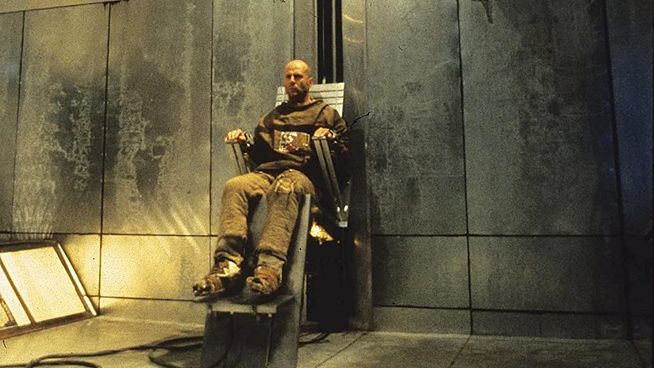 12 Monkeys is very special in many ways. Not only because the ingeniously quirky Terry Gilliam combines his unique sense of visuality with a dark, gripping story. On top of that, he earned Brad Pitt his very first Oscar nomination (for best supporting actor) in 1996 with an unusual role in which he was able to show himself from a different side.
In the end, "12 Monkeys" – and that's probably the most special thing from today's point of view – is simply a damn good Bruce Willis film. And as is well known, there has been little of the sort lately. So before you bring current gherkins like "Cosmic Sin" or "Trauma Center" home, you would be better advised to simply recall his cult films and classics instead. With "12 Monkeys" you'll get one of them soon not just one, but four limited re-editions on Blu-ray:
›› "12 Monkeys" Limited Mediabook A at MediaMarkt*
›› "12 Monkeys" Limited Mediabook B at MediaMarkt*
›› "12 Monkeys" Limited Mediabook C at MediaMarkt*
›› "12 Monkeys" Limited Mediabook D at MediaMarkt*
On October 30, 2021, "12 Monkeys" will be released as a limited edition in the media book. And as is so often the case, fans of the popular special packaging can also look forward to several cover versions – so that every taste is catered for. The only drop of bitterness: Anyone hoping for a 4K premiere of "12 Monkeys" will be disappointed for the time being. The Mediabooks only contain the Blu-ray.
"12 Monkeys": Milestone with cult factor
In the year 2035, after a deadly virus infects the surface of the earth, humanity is forced to eke out an existence underground. The only rescue: James Cole (Bruce Willis), who is supposed to travel back to 1996 and prevent the outbreak of the deadly plague…
In "Brazil" (1985), Terry Gilliam impressively demonstrated that hardly any other filmmaker knows how to stage future scenarios that are not only exciting but almost feverishly dreamlike. Ten years later he followed up with "12 Monkeys" – and gave fans of labyrinthine stories, dark dystopias and visually demanding science fiction another milestone in the genre, which achieved cult status within a very short time – and has now also been published as a series of the same name.
Incidentally, it's not just us who are completely enthusiastic about "12 Monkeys" (the FILMSTARTS review gets the full five points), but also the FILMSTARTS users, who give the time travel thriller a current average rating of 4.4/5. The film is currently on Ranked 15th best science fiction film of all time – even before over-classics like "Terminator", "2001: A Space Odyssey" and "Metropolis"!
The best science fiction films on FILMSTARTS
*These links are so-called affiliate links. If you make a purchase through these links or subscribe, we will receive a commission. This has no effect on the price.