With the fifth season of "Money Heist," one of Netflix's biggest hits is coming to an end. In addition to the upcoming Korean remake, the streaming giant is now working on another Heist format – which should get even bigger.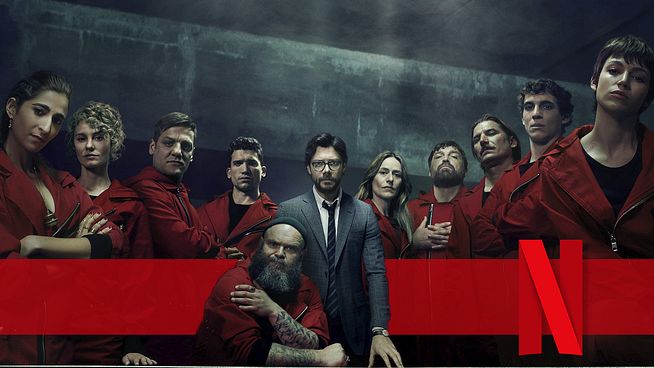 "Money Heist" maker Álex Pina promised war for the final fifth season of the Spanish hit series – and we actually got to see it in the first five episodes. When the successful Netflix format ends on December 3, 2021 with the very last episodes, fans can not only look forward to the South Korean remake, which should be available at the end of the year. At the same time, the streaming giant is now also working on its next format that fans of Heist thrillers should mark: "Jigsaw".
This is "Jigsaw"
Not just another heist awaits you in it, but the loosely based on true events story about the greatest robbery of all time!
"Jigsaw" was inspired by a $70 billion heist planned in downtown Manhattan while Hurricane Sandy swept through New York. In comparison: "Money Heist" is originally about an almost ridiculous 984 million euros. "Jigsaw" not only goes one better in terms of loot, but also takes place over a much longer period of time than the story of Tokyo & Co.
The eight-episode series is set to cover a quarter of a century – beginning 24 years before the robbery until a year later – and not only deal with the robbery itself, but above all tell of the intrigues, of the betrayal and also the revenge plans that it brought with it among those involved.
Both in front of and behind the camera, a prominent ensemble could be won, which is currently in the middle of the shooting:
The stars of "Jigsaw"
Breaking Bad villain Giancarlo Esposito plays Leo Rap, a savvy engineer and born leader whose criminal career began at a young age – and which ended up costing him not only his freedom but also his family.
Paz Vega ("Rambo: Last Blood") plays lawyer Ava Mercer, who sometimes gets her hands dirty to get what she wants, but is a good soul at heart. There is nothing she would not do for her loved ones.
In the role of former thief Roger Salas, who has left his criminal career behind and is now working as a security expert, we will see Rufus Sewell ("The Father") – as a cunning fox who puts his own interests above all and knows exactly how to manipulate people to his advantage.
Jai Courtney ("Terminator 5", "Die Hard 5") takes on the role of alpha male and safe-cracker Bob Goodwin – attractive, smart and dangerous to anyone who gets in his way.
Also on board are Tati Gabrielle, who we'll also see in "Uncharted" in 2022, Peter Mark Kendall, best known for the spy series "The Americans", Rosaline Elbay ("Ramy") and Niousha Noor (" The Night").
The brains behind "Jigsaw"
"Jigsaw" is the first major project by Erica Garcia, who was able to win not only a well-known cast for her debut, but also successful filmmakers.
The first two episodes will be directed by the Brazilian José Padilha, who once found international recognition with films such as "Tropa de Elite" and "Elite Squad 2" and thus finally made the leap to Hollywood, where he worked for "RoboCop", for example. -Reboot or several episodes of the Netflix hit "Narcos" took the director's chair. Garcia also gets additional producer power from master director Ridley Scott ("Alien", "Gladiator"), who is on board with his production company Scott Free Productions.
It is not yet known when "Jigsaw" will appear. However, since the series is already being filmed, a start in the second half of 2022 seems quite conceivable.
The "Money Heist" remake is coming this year: These are the new professor and his troupe